ATOA Scientific Technologies
Engineering Services
Multiphysics CAE for Innovation


ATOA's Engineering Services, specialty Multiphysics CAE, is provided to render cost effective, faster and reliable product and process design solutions. ATOA is the first certified Multiphysics CAE consultant across India. In layman's term, Multiphysics CAE is design of product for multiple engineering design requirements at once. ATOA provides virtual engineering design simulation solution, across Structural, Mechanical, Electrical, Chemical and BioMedical Engineering.
For More visit cae.atoa.com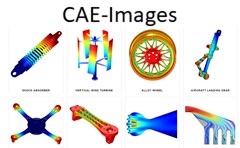 CAE.images is an exclusive online store for Computer Aided Engineering images, Video and Animations. Real world CAD, CAE design images are made available to download for Advertising Agencies, Creative Designers, Marketing firms, Print Publishers, Web designers and or the whole engineering community. CAE.images endeavor is to ensure high end engineering images availability to all for creative use.
For more visit cae-images.atoa.com